---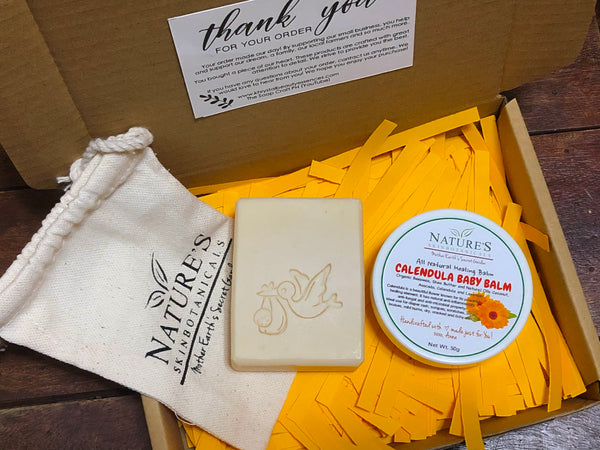 Baby Bath Gift Set
Nature's Skin Botanicals
Regular price ₱359.00
Our little ones deserve the best at all times.

This set includes our all natural Unscented Chamomile Milk Soap and our best selling Calendula Baby Balm. It nourishes and protects our sensitive skin.

Chamomile Soap
100% All Natural Handmade Artisan Soap
- nourishing
- moisturizing
- calming
- helps heal and manage skin allergies
- keeps skin healthy and smooth

Ingredients:
Coconut Oil, Water, Olive oil, Milk, Sodium hydroxide, Raw Cocoa Butter, Chamomile

Calendula is a beautiful flower known for its powerful healing ingredient. It has antiviral, anti-inflammatory, anti-fungal, anti-microbial and astringent property.

This recipe is a perfect herbal heal-all and can be use for: diaper rash, scrapes, scratches, sores, bruises, mild burns, dry, cracked and itchy skin.

Ingredients: Organic Beeswax, Shea Butter, Virgin Coconut Oil Avocado Oil, Calendula and Lavender Extract

NO HARMFUL CHEMICALS * SAFE FOR BABIES * IDEAL FOR EVERYDAY USE

For customized orders, send us a message.