---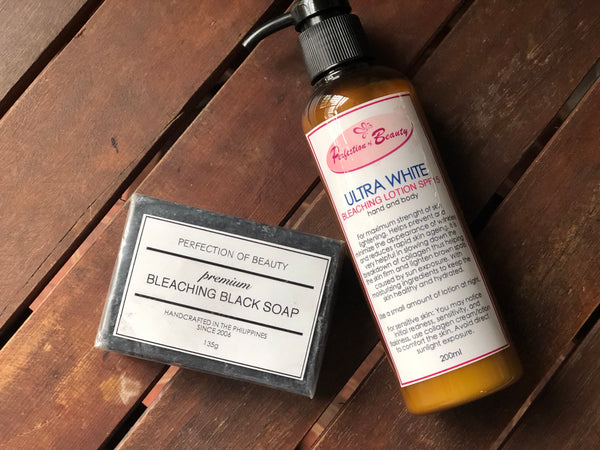 Hand & Body Bleaching Set
Perfection of Beauty
Regular price ₱299.00
This set includes:
Bleaching Lotion 200ml and Bleaching Black Soap 135g
Bleaching Lotion with SPF15 is a Vitamin A based lotion used to prevent and minimize the appearance of wrinkles and reduces rapid skin ageing. It is very helpful in slowing down the breakdown of collagen thus helping the skin firm and lighten brown spots caused by sun exposure.
It also contains moisturizing active ingredients like amino acids to keep the skin moisturized and reduce skin irritation.
Use small amount of lotion at night. You may notice initial redness, sensitivity and flakiness, use collagen cream/lotion to comfort the skin. Avoid direct sunlight exposure.
Use carefully. Bleaching lotion can be extremely irritating and drying on the skin when used in large amount and therefore should only be used for short periods of time.