---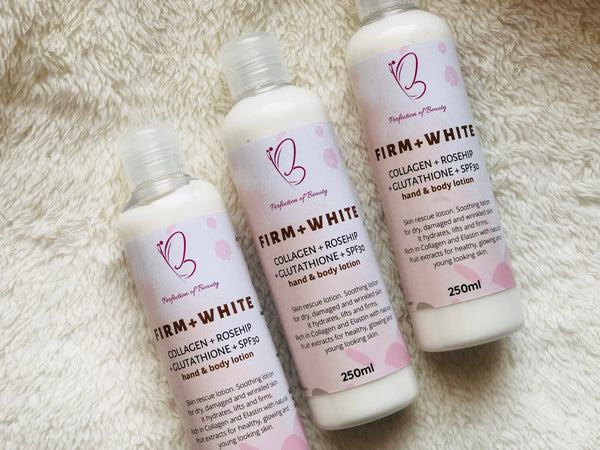 Sale
Firm + White GlutaCollagen Lotion
Perfection of Beauty
Sale price ₱279.00 Regular price ₱285.00
Forever young and fine skin!

Collagen and elastin are naturally produced in the dermis, the middle layer of the skin. These proteins keeps the skin smooth, supple, and elastic. Though the body naturally produces these proteins, their production usually decreases as people age. Certain skin-care products and foods can help maintain elevated production of collagen and elastin within the skin. Healthy levels are thought to reduce signs of aging, particularly wrinkling and sagging of the skin.

The skin-care benefits of Collagen and Elastin Lotion are said to smooth out fine lines and wrinkles and restore, or maintain skin's elasticity. It reduce the signs of aging.

Firm + White Hand & Body Lotion will help you prevent skin problems and will nourish and take care of your skin either young or old of age. Collagen is responsible for keeping skin plump. Elastin is considered an essential building block of the fibrous tissue that keeps skin flexible and elastic. Young people usually have high levels of these proteins in their skin, but production within the body declines with age, leading to fine lines, wrinkles, and sagging. A combination of factors, including collective sun exposure, diet, and tobacco use, can accelerate the decline of natural collagen production.
Ingredients: Water, Dimethicone, Glycerin, Cetyl Alcohol, Niacinamide, Hydrolyzed Collagen (and) Elastin, Cetearyl Alcohol (and) PEG-150 Stearate, Allantoin, Ethylhexyl Methoxycinnmate, Phenoxyethanol, Propylene Glycol, Stearyl Alcohol, Kojic Acid, Glycolic Acid, Fragrance Oil, Carbomer, Scutellaria Baicalensis Root Extract, Glutathione, Arbutin and Citric Acid.