---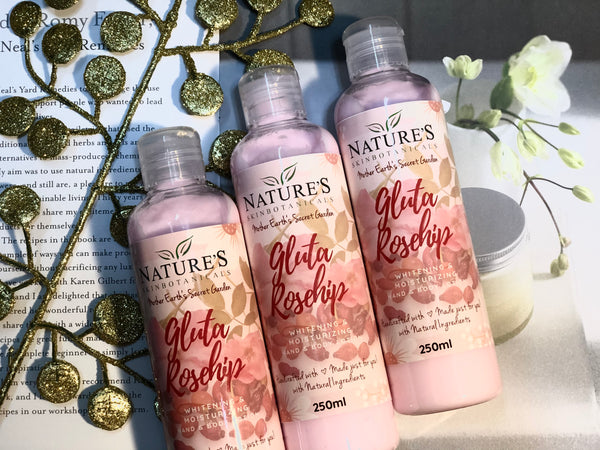 GlutaRosehip Lotion 250ml
Love Your Skin
Regular price ₱249.00
Rich in Vitamin C great for mature
and damaged skin. It helps slow premature ageing by reducing the formation of fine lines and wrinkles, lightens dark skin and helps regenerate new skin cells. Ideal for everyday use.

Glutathione is a very good antioxidant and very effective whitening agent in higher dose.

Rosehip Extract is rich in Vitamin A,C, D and E, lycopene, flavonoids and iron. It is excellent and proven in antiageing skin care ingredient with moisturizing, firming and soothing action ideal for dry and mature skin types.

Vitamin E prevents premature ageing and supports new skin cell growth

Niacinamide is a skin protectant, rejuvenating and tones the skin.
Ingredients: 
Water, Cetyl Alcohol, Butyrospermum parkii (Shea Butter), Helianthus anuus (Sunflower seed) Oil, Rosehip Oil, Sodium PCA, Ethylhexyl Methoxycinnamate, Niacinamide, Arbutin and Glutathione Complex, Carica papaya (Papaya) extract, Titanium Dioxide, Phenoxyethanol, Fragrance oil and colorant
This is handmade in small batches. Nature's Skin Botanicals' believes that beauty can also be achieved with natural ingredients. Our products has no harmful chemicals and safe for all especially to babies.