---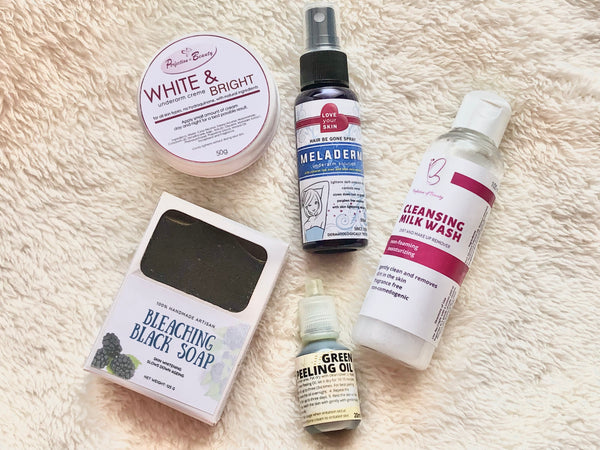 UnderArm Complete Peeling and Whitening Set
Perfection of Beauty
Regular price ₱599.00
Nobody wants  dark skin, especially under the arms. Check out and try this underarm complete set to achieve a beautiful and white underarm skin.
Inclusions: Green Peeling Oil, Cleansing Milk Wash, Bleaching Black Soap, UnderArm Whitening Cream, MelaWhite Deo Roll On, Hydrocortisone Cream
*Green Peeling Oil and Bleaching Black Soap contains Hydroquinone*
This product comes with a detailed procedure. Recommended for professional use.
Note: Our underarm is not a normal area to peel because there is to much moisture and friction on the skin and this can cause irritation. Applying this product without proper medical consultation constitutes using it at your own risk. To avoid such undesirable effect, please follow the procedure and contact me anytime. Please take note that with this type of peel, you are not supposed to get the treated area wet for 2 to 3 days following the application of the peel, because your underarm produces sweat (moisture) that may alter and aggravate any skin condition.